That weird time between Christmas and New Year can sometimes leave you at a loose end. You've spent your money on Christmas and, given there's a pandemic happening, you don't really have many places you can go. Fear not! Here are four free things you can enjoy in that twilight zone between Boxing Day and New Year's Eve.
A Christmas Carol
Sam Marshall, one half of our "Full Sam Experience" band and has collaborated with his fiancé Lucy, to create a stunning audio reading of Charles Dickens' classic A Christmas Carol.
It's free to listen, and if you like it and can help, they are raising money for Framework, a charity that does amazing work in Nottingham and the surrounding areas. They help those who are experiencing homelessness and housing insecurity, providing housing, mental and physical health support, education, training and support for addiction.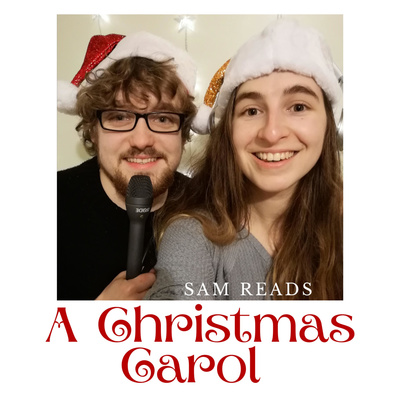 By Lucy Hallam and Sam Marshall Bah, humbug! Ebenezer Scrooge is a miser who detests all things merry. His partner, Marley, has been dead for seven years, so why can Scrooge hear him coming up the stairs? Fundraiser: justgiving.com/fundraising/samlucychristmascarol Website: samlucy.wixsite.com/achristmascarol Credits: samlucy.wixsite.com/achristmascarol/credits 2020 © Anchor FM Inc. All rights reserved.
If you want to make a donation to Sam and Lucy's Just Giving page for Framework, you can do that here: https://www.justgiving.com/fundraising/samlucychristmascarol
Multiple Shenanigans
A poet and a comedian both with Multiple Sclerosis meet to chat, life, escapades and the funny side of their chronic illness. The comedian you may already know as Rhymes performer Jeanette Bird-Bradley. Join Jeanette and her friend Lytisha as they discuss the challenges and hilarities of living with the unpredictability which is, a sometimes invisible, sometimes very visible disability.
Lytisha and Jeanette have MS. They are also a comedian and a poet. What could possibly go wrong?In this episode they discuss the colour beige, and the concept…
Sam Plummer, our musical director and the other half of The Full-Sam Experience, has recorded a beautiful rendition of have yourself a Merry Little Christmas with one half of comedic duo Rosie and Pippa (the Pippa half to be precise!).
Both Sam and Pippa were missing family and friends over Christmas and this made our hearts swell. They made this wonderful video for you to enjoy – and given it's free, it's very worth at least a like on Insta!
The Improv Chronicle Podcast
It's not been a 2020 most of us would have designed for ourselves so as we let the year depart, improvisers from all over the world have articulated their hopes and dreams for improv in 2021, including a group of teenage improv students in New York. Produced by Rhymes' artistic director, Lloydie, this podcast is free to download and an opportunity to have a little bit of hope for a new year.
What do improvisers hope 2021 brings to our artform and to their own projects? Improvisers from across the world have sent messages to The Improv Chronicle and some of improv's next generation reflect on what they want the new year to look like.Support this show http://supporter.acast.com/the-improv-chronicle-podcastThe Improv Chronicle Podcast is produced and hosted by Nottingham improviser Lloydie James LloydTheme music – Sam PlummerLogo design – Hélène DollieSupport this show http://supporter.acast.com/the-improv-chronicle-podcast.
Looking for some improv fun in the New Year? Want to have a go at musical improv or brush up your existing skills? Take a look at our open jams and workshops